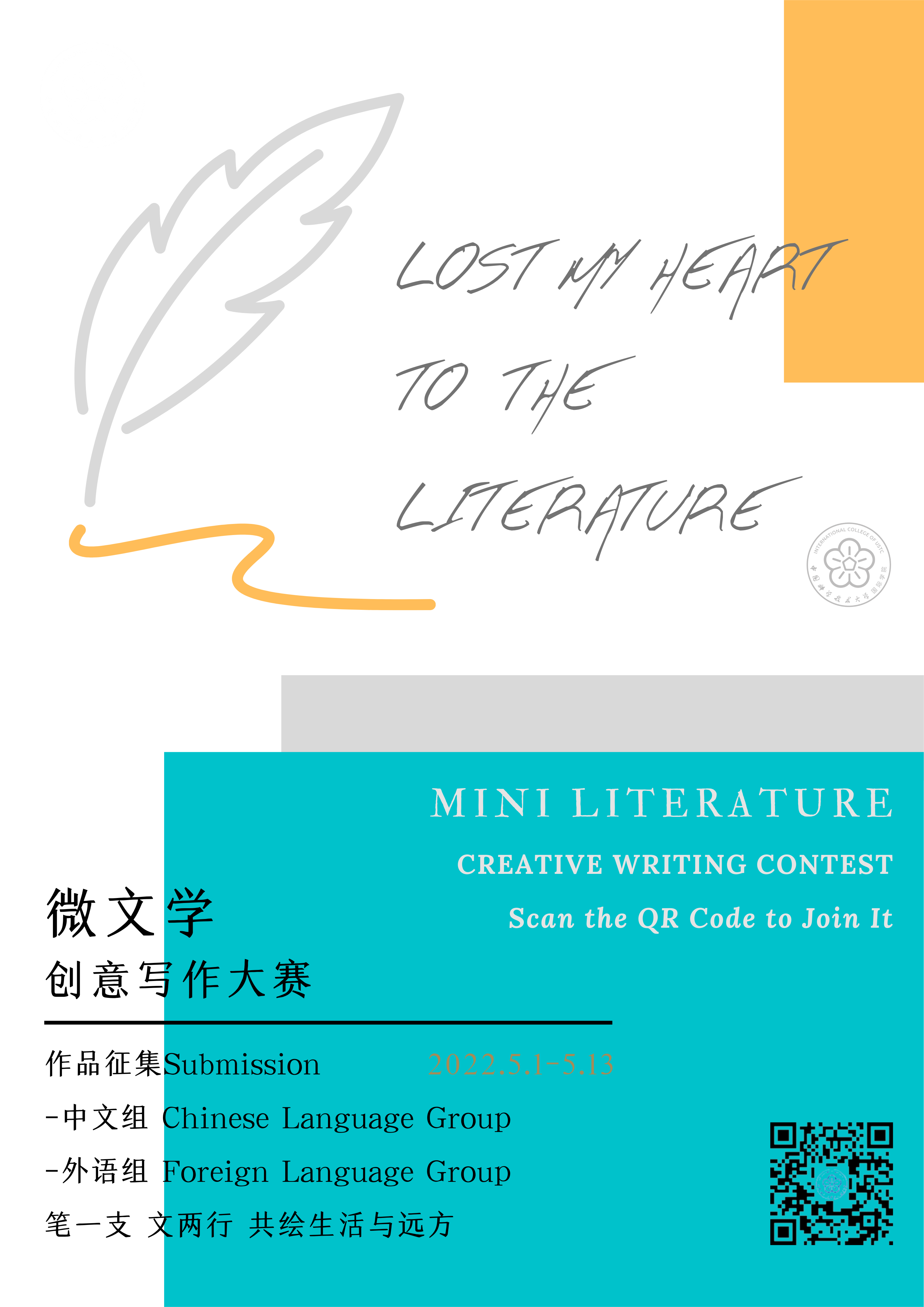 春风拂面,你有多久没有驻足享受阳光了?
焚膏继晷,你有多久没有抬头仰望星空了?
我们往往在庞杂的信息洪流中迷失方向,在繁重的学业和工作中疲于奔命,被琐碎的日常磨去了内心深处的灵光和诗意。却忘记,我们依然可以用天马星空的创意勾勒出一个自由的世界,在沉重的生活中构建心灵的庇护所。
大音希声,大象无形。从简到繁是成熟,从繁到简是智慧。最深刻的情感表达不必冗长繁杂,寥寥数语便可打动人心。笔一支,文两行,共绘生活与远方。为促进中外交流,营造轻松和谐的校园文化氛围,中国科学技术大学国际学院拟开展"微文学"创意写作大赛,以笔为伴,以纸为媒,让大家在展现自己的精彩文笔的同时,从文学创作中感受积极向上的精神力量。
To promote communication between Chinese and international students and create a harmonious cultural atmosphere, the International College of USTC is organizing a "mini literature" creative writing contest. Welcome everyone to join us and use your pen to construct a simple and poetic shelter from the complexity of life.
你眼中的"微文学"是什么样子的?
What is "mini literature" in your opinion?
是缱绻浪漫的三行情诗?
Is it a romantic poem in three lines?
Eyes are raining for her.
Heart is holding umbrella for her.
This is love.
眼睛为她下着雨,
心却为她打着伞,
这就是爱情。
——Rabindranath Tagore
是意味深长的人生感悟?
Is it a philosophical word that provokes your thought?
网
——北岛《生活》
是言简意赅的动人故事?
Is it a touching story within 6 words?
For sale: baby shoes, never worn.
——Ernest Hemingway
还是别出心裁的文字游戏?
Or a lovely little "word" game?
I am
not happy
beca se……
——佚名
快来发挥你的创意,创作属于你的"微文学"吧。
Be generous with your creativity. Come and write your own "mini" literature work!
组别设置及投稿要求
(1)本次活动分为中文组和外语组,参赛者可参加两个组别,每人每组只能提交一篇作品。
(2)中文组投稿用中文书写,字数控制在50字以内,排列不超过三行。
(3)外语组投稿可以用英文或其他语言书写(需附英文或中文译文),字数控制在30字以内,排列不超过三行。
(4)作品主题和文体不限。内容应积极向上,不得违反中国的法律法规及社会公序良俗。
(5)提交的作品必须是参赛者的原创作品。一经提交,不得撤回,请妥善保管原文件。
Groups and Requirements
(1) The contest is divided into a Chinese language group and a foreign language group. Contestants can participate in both groups, but each person can only submit one piece of work for each group.
(2) Works submitted to the Chinese language group should be written in Chinese. The work should be less than 50 words and be arranged within three lines.
(3) Works submitted to the foreign language group can be written in English or other languages (with English or Chinese translation). The work should be less than 30 words and be arranged within three lines.
(4) No limits on the theme and style of works. The content of the works should comply with Chinese regulations and laws as well as public order and good morals.
(5) The submitted works must be the original works of participants. Once submitted, the works will not be withdrawn. Please keep the original file by yourself properly.
活动安排
作品征集:2022年5月1日-2022年5月13日
专家初审:2022年5月13日-2022年5月17日
大众投票:2022年5月18日-2022年5月22日
结果公布:2022年5月25日
Procedures and Time
Submission: May 1, 2022 ---- May 13, 2022
Pre-selection: May 13, 2022 ---- May 17, 2022
Selection by voting: May 18, 2022 ---- May 22, 2022.
Announcement of Results: May 25, 2022
奖品设置 (每个组别分设奖项)
一等奖1名:证书+ iReader阅读器
二等奖1名:证书+蓝牙音箱
三等奖1名:证书+蓝牙耳机
优秀奖5名:证书+小牛U盘
活动参与者均可获得精美礼品一份。
Awards(for each group)
First Prize × 1 work: One certificate + an iReader
Second Prize × 1 work: One certificate + a Bluetooth speaker
Third Prize × 1 work: One certificate + a set of Bluetooth earphones
Excellence Award × 5 works: One certificate+ a USTC USB for each person
Every participant will get a souvenir from USTC International College.
注意事项
(1)作品版权归作者所有,作者享有署名权。作品一经投稿,表明作者同意并永久免费授权主办方将其作品用于其他活动或用途,如在网络、有线电视、移动端等播放、出版、海报、展览等。
(2)所有参赛者应保证享有参赛作品的版权。因作品版权所产生的法律责任,一律由作者承担,并赔偿由此对主办方造成的一切损失。
(3)本次征稿活动最终解释权归活动主办方所有,凡投稿者即视为已同意本次征稿活动的所有规定。
Attention
(1) For all works submitted for the competition, the authors reserve the copyright and the right of authorship and have agreed that USTC International College has the right to use their works in other capacities for free, such as internet, cable TV, and mobile terminals, also publications, posters, and exhibitions.
(2) All participants should guarantee ownership of the copyright of their entries. The author(s) shall bear all legal responsibilities and economic losses, including but not limited to those resulting from the products' infringement of intellectual property, portrait rights, and reputation rights, as well as defamation and other violations of laws and regulations.
(3) By entering the contest, entrants will be deemed to have accepted and be bound by the terms and conditions. USTC International College reserves the right to interpret the terms and conditions of the contest.
扫描下方二维码或点击链接,提交你独一无二的作品吧!
If you are interested in the contest, please click the link below or scan the QR code below to submit your work.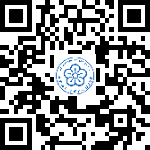 https://www.wjx.cn/vj/QmR5uSf.aspx
期待你的参与。
We are looking forward to your participation.