夜月一帘幽梦,春风十里柔情。冰雪初融,芳草新绿,春日的来信跨越了山海,打破了时光的隔阂,来到你我身边。盼蜗壳师生展信舒颜,驻足片刻,阅读这封来自人间四月天的盛情邀请。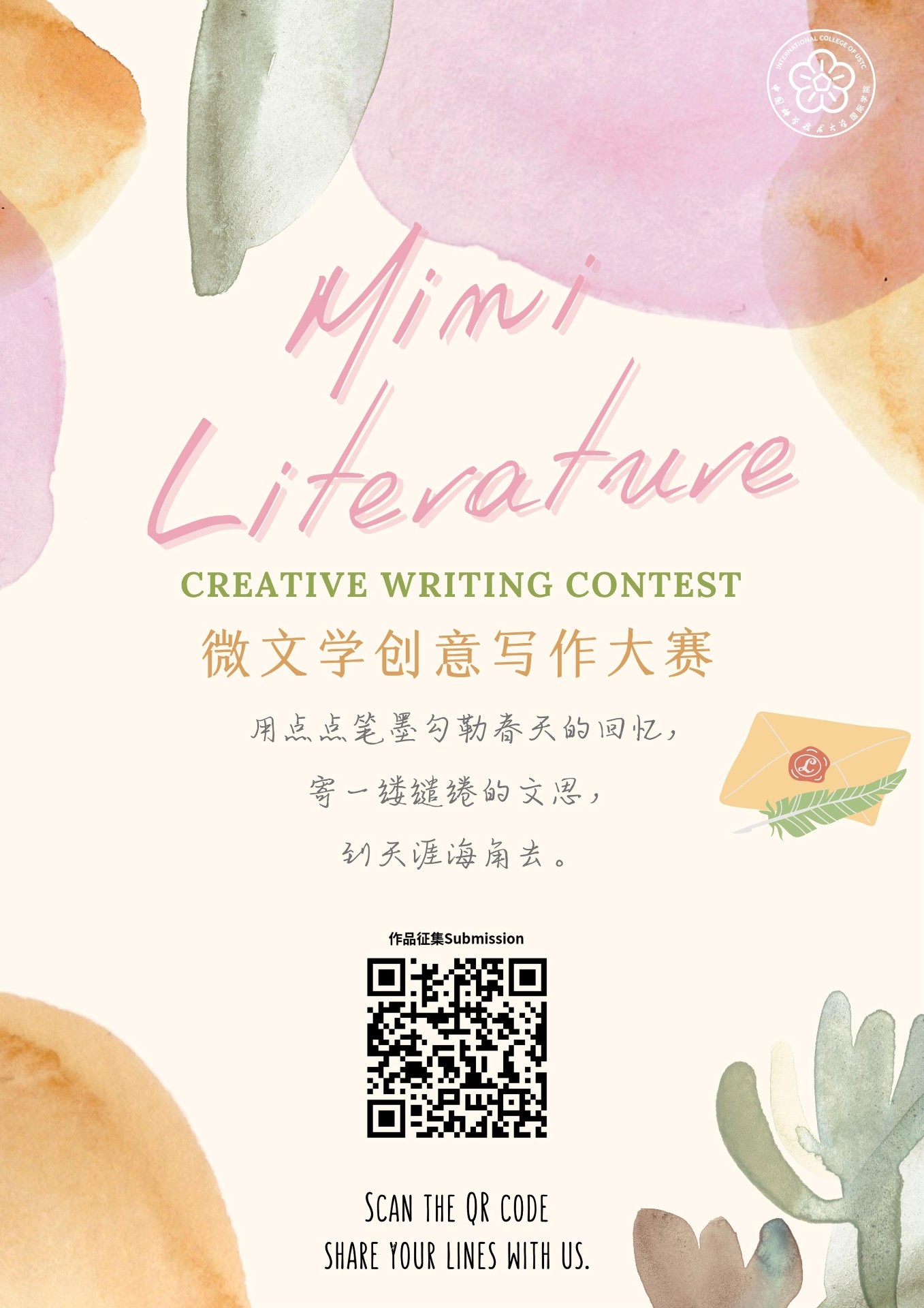 或许,你曾有在人潮茫茫中失落彷徨的时刻。
"我站在人群中,孤独得,就像是P上去的。——姜二嫚"
或许,你质疑人生的方向,却又终于释怀。
"我是我自己的诗,所以容许措别字,我爱我的不通顺、残缺和差池。——惊竹娇"
或许,你只想在这个肥胖的年代,写一首清瘦的诗。
"时代越大,诗越小;时代越傲慢,诗越谦卑。——李元胜"
……
仓颉造字,惊天地而泣鬼神。诗歌不以长短论英雄,寥寥数语便震人心魄。万物之始,大道至简;诗句虽短,总能入心。为促进文化交流,国际学院拟开展中国科大第二届"微文学"创意写作大赛,鼓励我校中外师生展现精彩文笔,传递积极美好的精神力量。
To promote communication between Chinese and international students and create a harmonious cultural atmosphere, the International College is organizing the 2nd USTC "Mini Literature" Creative Writing Contest. Welcome everyone to join us and use your pen to write a light and slim poem in this fat and swollen era.
去年春天,国际学院举办了第一届"微文学"创意写作大赛,收到许多中外师生的优秀作品投稿。
Last spring, International College organized the 1st USTC "Mini Literature" Creative Writing Contest and has received many awesome works from our Chinese and international students.
有的作品趣味盎然:
Some are fun and interesting: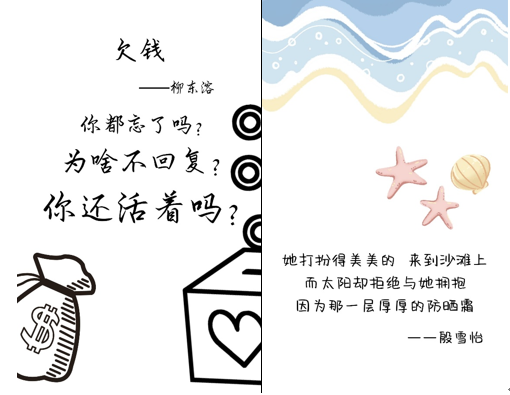 有的言简意赅:
Some are short and terse: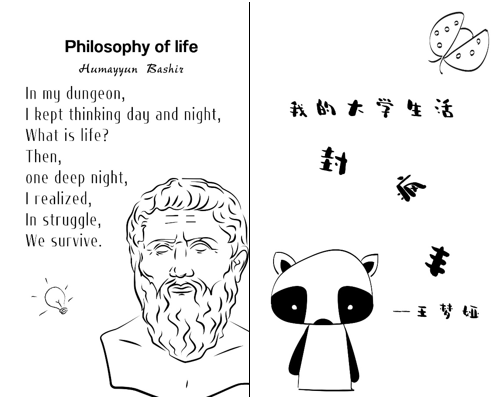 有的动人心弦:
Some are touching and lovely: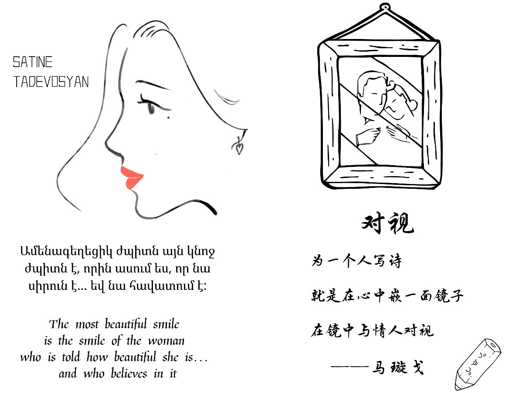 你是否也才思泉涌了呢?快来发挥你的创意,创作属于你的"微文学"吧!用点点笔墨寄托春日文思,以诗言志,以歌抒情。
Do you get the creative juices flowing? Be generous with your creativity. Come and write your own "mini" literature work! Share your thoughts in short lines with us.
组别设置及投稿要求Groups and Requirements
(1)本次活动分为中文组和外文组,参赛者可参加两个组别,每人每组只能提交一篇作品。
(2)中文组投稿用中文书写,字数控制在50字以内,排列不超过三行。
(3)外文组投稿可以用英文或其他语言书写(需附英文或中文译文),字数控制在30字以内,排列不超过三行。
(4)作品主题和文体不限。内容应积极向上,不得违反中国的法律法规及社会公序良俗。
(5)提交的作品必须是参赛者的原创作品。一经提交,不得撤回,请妥善保管原文件。
(1) The contest is divided into a Chinese language group and a foreign language group. Contestants can participate in both groups, but each person can only submit one piece of work for each group.
(2) Works submitted to the Chinese language group should be written in Chinese. The work should be less than 50 words and be arranged within three lines.
(3) Works submitted to the foreign language group can be written in English or other languages (with English or Chinese translation). The work should be less than 30 words and be arranged within three lines.
(4) No limits on the theme and style of works. The content of the works should comply with Chinese laws and regulations as well as public order and good morals.
(5) The submitted works must be the original works of participants. No plagiarism. Once submitted, the works will not be withdrawn. Please keep the original file by yourself properly.
活动安排Procedures and Time
作品征集:2023年4月17日-2023年5月5日
内部初筛:2023年5月5日-2023年5月9日
专家评审&大众投票:2023年5月10日-2023年5月20日
结果公布&奖品颁发:2023年5月30日前
Submission: Apr 17, 2023 - May 5, 2023
Pre-selection: May 5, 2023 - May 9, 2023
Expert Review & Public Voting: May 10, 2023 - May 14, 2023
Result Announcement & Prize Awarding: Before May 30, 2023
奖品设置Awards
最佳人气奖1名:香薰机
最具创意性奖1名:蓝牙耳机
最具故事性奖1名:蓝牙音箱
优秀奖中外组各5名:国际学院定制钥匙扣
活动参与者均可获得本次比赛的定制诗集一本。
Best popularity award × 1 work: an Aroma Diffuser
The most creative award × 1 work: a set of Bluetooth earphones
The best story-telling prize × 1 work: a Bluetooth speaker
Excellence Award × 5 works for each group: a USTC keychain
Every participant will get a collection of works as a souvenir from the International College.
注意事项 Attention
(1)作品版权归作者所有,作者享有署名权。作品一经投稿,表明作者同意并永久免费授权主办方将其作品用于其他活动或用途,如在网络、有线电视、移动端等播放、出版、海报、展览等。
(2)所有参赛者应保证享有参赛作品的版权。因作品版权所产生的法律责任,一律由作者承担,并赔偿由此对主办方造成的一切损失。
(3)本次征稿活动最终解释权归活动主办方所有,凡投稿者即视为已同意本次征稿活动的所有规定。
(1) For all works submitted for the competition, the authors reserve the copyright and the right of authorship and have agreed that USTC International College has the right to use their works in other capacities for free, such as internet, cable TV, and mobile terminals, also publications, posters, and exhibitions.
(2) All participants should guarantee ownership of the copyright of their entries. The author(s) shall bear all legal responsibilities and economic losses, including but not limited to those resulting from the products' infringement of intellectual property, portrait rights, and reputation rights, as well as defamation and other violations of laws and regulations.
(3) By entering the contest, entrants will be deemed to have accepted and be bound by the terms and conditions. USTC International College reserves the right to interpret the terms and conditions of the contest.
扫描海报上的二维码,提交你独一无二的作品吧!
If you are interested in the contest, please scan the QR code on the poster to submit your work.
期待你的参与。
We are looking forward to your participation.