"My China Surprise" Short Film Project is now open for submission. As the Chinese saying goes, "Seeing is believing." What has surprised you in China? Has someone or something fascinated you in this country? Have you had any "Aha moments" here? Join us for the "My China Surprise" Short Film Project! Lights, camera, action!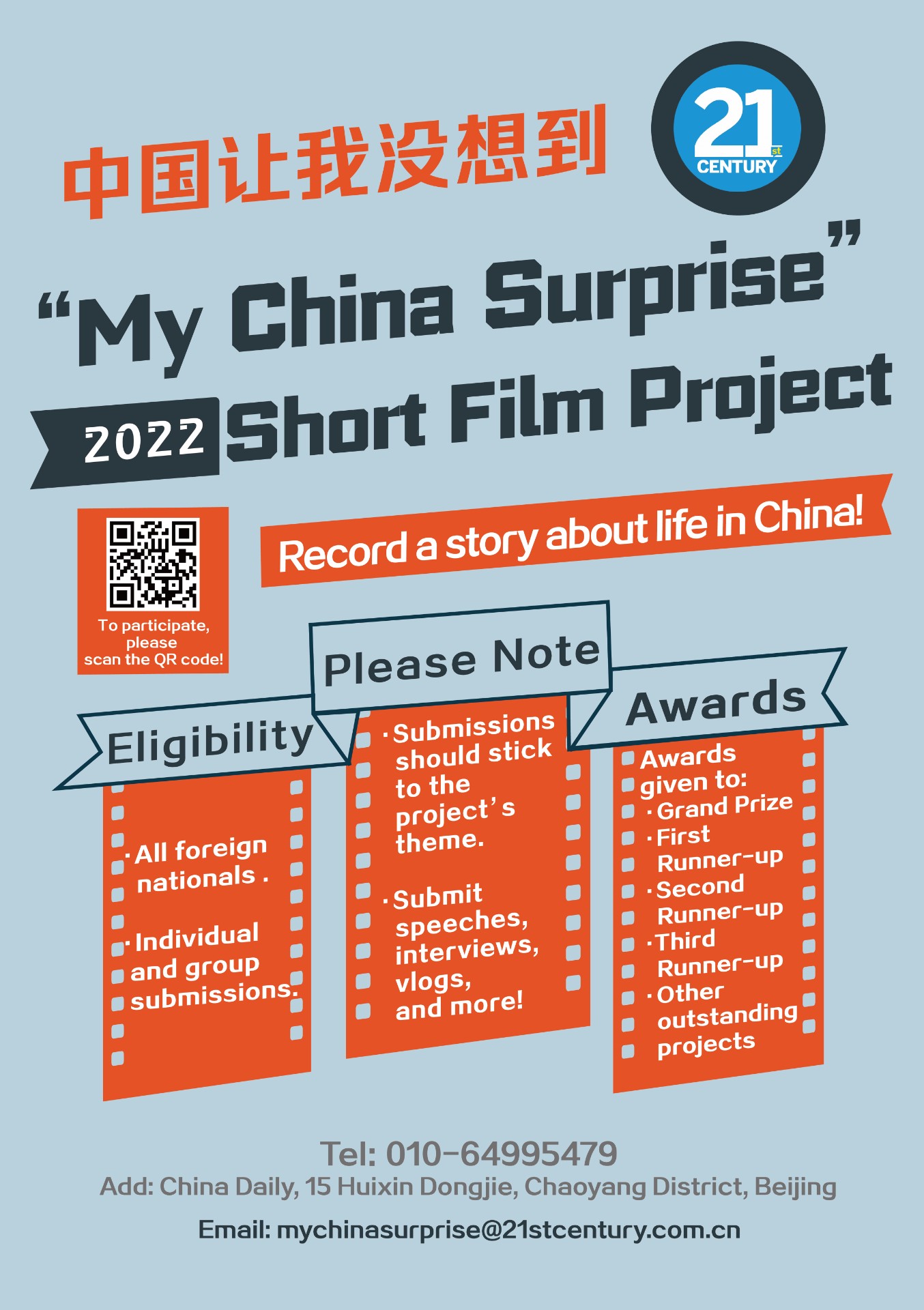 01 About the Project
The "My China Surprise" Short Film Project aims to tell touching and meaningful stories about China. The project is underpinned by the idea "To tell China's stories, to build a better world".
02 Please Note
The project aims to invite foreigners currently in China or who have been in China before to tell firsthand stories about their lives, work or studies in China.
03 Participation requirements
[Creativity and originality] The submitted film must be your original work. It should not copy, reproduce or plagiarize any other third party. Works that are of certain artistic merit in form, content and idea are preferred.
[Relevance] The submission must be relevant to the project's theme, with positive content that embodies the spirit of today's China and building a community with a shared future for mankind.
[Content style and variety] Tell your story of living in China. A range of formats will be accepted, including speech, interview, short feature film, talent show, stand-up comedy, Vlog, etc.
04 Guidlines
[Submission period] January 31, 2022 - June 28, 2022
[Eligibility] All foreign nationals of any age and occupation. ·
[Submission type] Individual and group submissions will both be accepted.
[Video requirements]The language used in your film must be English or Chinese. The film should be no longer than 5 minutes in length and should be shot in landscape mode with high resolution. Your film should be no larger than 300MB in size.
Link of the model video: http://mychinasurprise.i21st.cn/show.php?ep=1&type=1
[Awards]
1. Grand Prize (1 award)
2. First Prize (2 awards)
3. Second Prize (3 awards)
4. Third Prize (15 awards)
Other outstanding projects will also receive awards.
Honorary certificates and corresponding prizes will be given for each prize level. These include iPads, Bluetooth headphones, and more.
[How to submit]
Submit your work via the link below before June 28, 2022:
https://workspace.jianguoyun.com/inbox/collect/288214fc0d2141f2b1e22caab312525d/submit
05 Related declaration:
1. "My China Surprise" Short Film Project is an event of public welfare, and any fees charged by any individual, group or company are NOT permitted.
2. All submissions should be relevant to the "My China Surprise" theme. Any irrelevant work will be disqualified.
3. The submitted film must be original work, and submissions that copy, reproduce or plagiarize any other third party will be disqualified.
4. The project reserves the right of promotion, publication, distribution, display, and exhibition of works submitted.
5. The project is not responsible for any legal liability caused by an infringement, violation or misappropriation of any third party rights, including (but not limited to) portrait, reputation, privacy, copyrights, trademark, etc. The submitter should take full responsibility for any possible legal liability caused by the disputes above, and the project reserves the right to disqualify any work and cancel any awards.
6. The project reserves the right of final interpretation for any objection to the rules above. Any unresolved matters related to this project will be further formulated and explained by the organizing committee.